Digital India 2020 and beyond
The Digital India imperative has witnessed a consistent upward growth trajectory during the ongoing covid-19 pandemic with a shifting behavioural change and adoption of digital services by the Government as well as the citizens of India.
The pandemic has mandated for a drastic push towards achieving digitalisation of varied G2C, B2B and B2C services. These include a plethora of achievements such as
Large penetration of digital transactions during the pandemic with JAM ( Jan Dhan, Adhaar, Mobile )  trinity and UPI being the key drivers. As per RBI, India is now clocking around 100 Million digital transactions a day with a volume of USD 67 Billion.
The homegrown contact tracing application – Aarogya setu with 165 Million downloads till November 2020.
The citizen engagement platform – Mygov.in has witnessed a substantial rise in the volume of registered members who are actively leveraging the platform to crowdsource the governance ideas during the pandemic. The total registered members till November 2020 stands at around 15 Million which is expected to grow further.
The Digital India campaign is expected to play an all-important role in achieving the newly set goals of transforming India into a 5 trillion-dollar economy by 2025, tackling digital poverty needs to take precedence. There is an urgent need to reset the Digital India in 2020 & beyond across the pillars of Digital India by
Enhancing the availability of digital infrastructure and platforms.
Maximise penetration of data and digital content.
Drive digital value across possible ecosystems including the Government to go fully paperless, face-less, cash-less and contact-less.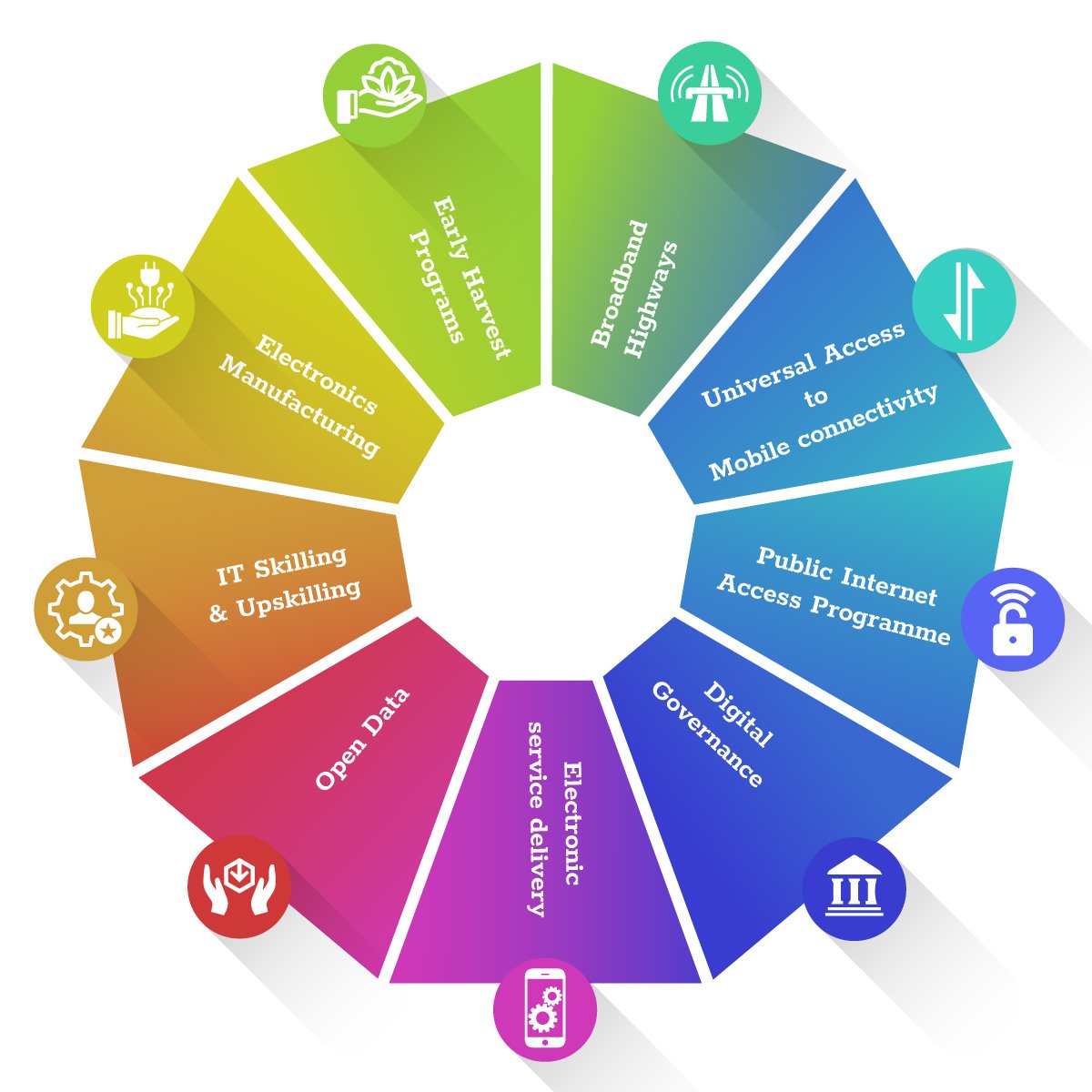 Broadband Highways – Achieve the target to eradicate the "Digital divide" by connecting a remaining number of gram panchayats with high-speed internet connectivity as if the target date is tomorrow.
Universal Access to Mobile connectivity – Even as India targets for faster and consistent communication through 5G network, thousands of villages having remote/adverse terrain and which are diversely situated with scattered population are yet to realise stable internet connectivity & mobile connections. This is a priority for India in 2020 and beyond to improve its "Digital Quality of Index 2020"
Public Internet Access programme –  Increased Penetration of  more CSCs for better and hassle-free access of additional Government services along with fast track promotion of "CSC Digital Cadets" to provide doorstep access to various Government-to-Citizen (G2C) and Business-to-Citizen (B2C) services
Digital Governance  – "Better Accessibility" , "ease of use" and end service delivery" will be the key for India to improve its ranking in the global e-Government Development Index in 2020 and beyond.
Electronic service delivery – The powerful JAM trinity of Jan Aadhaar Mobile shall be the key in making citizens  "Atmanirbhar" in a true sense in the post-COVID times. Service delivery and information-provision need to enfold the country's semantic diversity along with a maximum of services need to be adapted for easy access on the mobile devices primarily and promote "Contact-less" service delivery.
Open data – Information for all:- For Innovative and evidence-based policy solution realisations, the public data dissemination in open & unified digital formats needs to be adopted along with updating the datasets regularly and removal of incomplete datasets from the Open Government Data (OGD) platform (data.gov.in)
IT skilling & upskilling:- " More IT skilling & upskilling programs primarily on emerging technologies like Artificial Intelligence, Machine learning, IoT, Blockchain, Data analytics, cybersecurity are to be promoted across the length and breadth of the country for making India future-ready " and the tech capital of the world.
Electronics manufacturing:- Target for 2020 and beyond should be to make net imports to zero. It can only be achieved by coordinated actions on some major fronts such as policies, taxation, skill development, government procurement, etc.
Early Harvest programs:- The new normal calls for concrete and faster completion of projects involving IT platforms for messaging, security & standardisation of email within government, e-books, public WIFI hot spots, public information alert systems, one India to make India a truly digital nation.